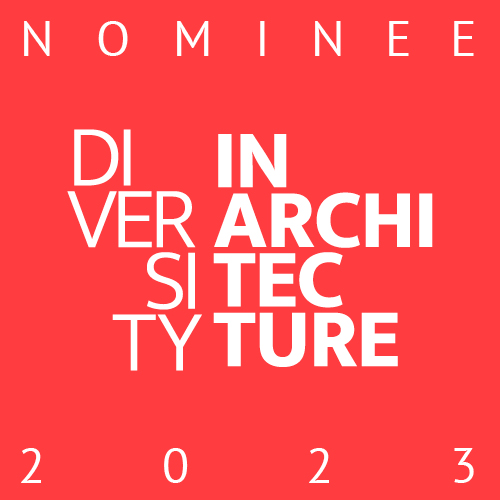 DIVIA AWARD 2023 NOMINEES
The Advisory Board members have submitted their nominees for the 2023 award, and we could not be more thrilled with the selection!
Congratulations to all women architects!
Please follow our Instagram channel to learn more about the nominees — they will be communicated on the platform throughout the month of December.
The Jury has received the nominations and can now begin with the voting process. The five finalists will be announced in January 2023. Stay tuned!
Invitation to the General Assembly 2022 
Dear members, this year's annual general assembly will take place on 23rd November 2022, at 2 p.m. (UTC+2) in the office in 12047 Berlin, Maybachufer 24
ZOOM-Link for digital participation after your registration
MAIL@DIVERSITYINARCHITECTURE.DE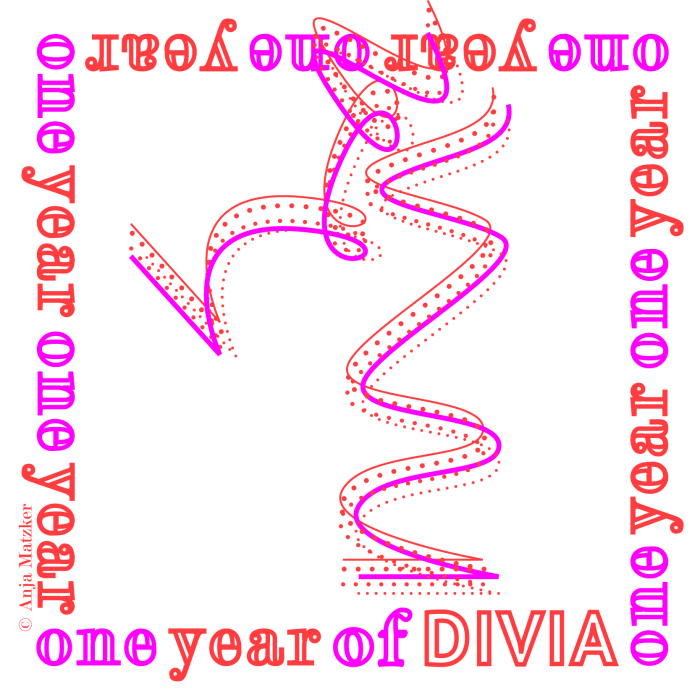 It's been 12 months of excitement and hard work after launching DIVIA in June of last year. We would like to thank all the members who have become a part of our organization – thank you for your constant dedication and unconditional support. We would also like to express our gratitude to our Chairs, Co-Founders, Jury Members, Advisory Board, Board of Trustees, Ambassadors, Donators and Strategic and Cooperation Partners for their individual and irreplaceable commitment to fostering positive change in architecture. Together we have embarked on a journey to promote the remarkable work of ambitious women by giving them a platform to be celebrated and acknowledged. We are quickly moving towards our first award ceremony in 2023, with the first nominations to be announced this summer. Stay tuned!
"Where are the women architects?"
Written by Katinka Corts, the renowned World-Architects eMagazine published an article about DIVIA – our important mission and the method behind it, revealing the protagonists leading the way to the first award ceremony in 2023. The story also features quotes from speeches held by the Chairs, Jury, Advisory Board members and Ambassadors at our launch event.
Thanks to John Hill @thearchidose        
What a beautiful and successful reception! At our yesterday's launch event at the DAZ Berlin, we presented the distinguished Jury and Board members for the first two Divia Award terms 2023 and 2025. The musical accompaniment was provided by singer Noraa from Paris. Thank you!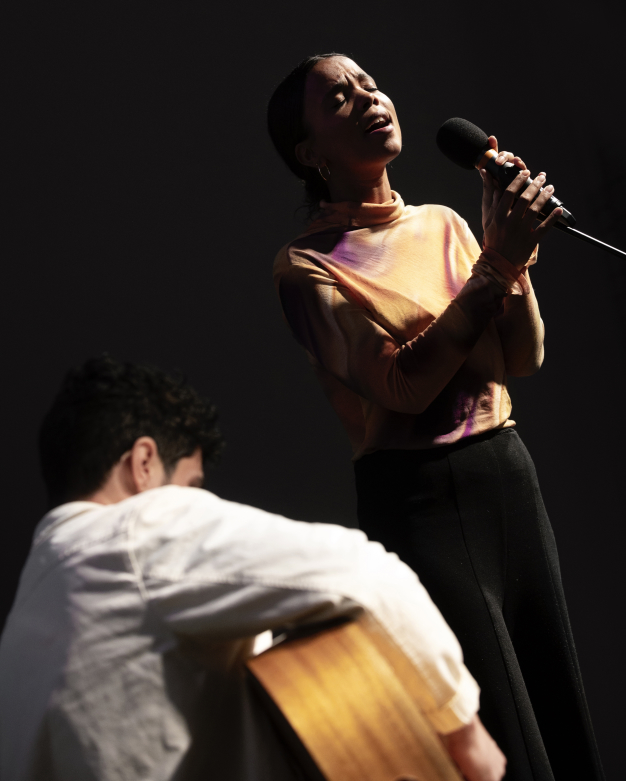 February 2022, Berlin
Behind every success is a great TEAM!
It is with great pleasure that we would like to thank our wonderful team for their dedication and commitment to DIVIA: drive, loyalty and individual skills are what connect and inspire us daily! We would like to seize the opportunity to introduce you to the protagonists behind the cause: graphic designer Anja Matzker (https://www.anja-matzker.com/) has been in charge of DIVIA's corporate identity, including logo development and print, since the beginning, IT professional Samar Maamoun (www.netfrei.de) implements said content on our website, journalist Veronika Lukashevich (veronikalukashevich.com) produces and supervises editorial content on our Instagram channel, Sabina Marreiros acts as a consultant, launches and supervises social media campaigns with our media partner www.world-architects.com, Vivian Schatz (https://t1p.de/3q3w) dutifully manages our membership administration, and last but not least: our legal advisor Jens Poll (www.jenspoll.de) tirelessly guides us through the thickets of the non-profit world. Thank you to all for their efforts: Chair Ursula Schwitalla (https://t1p.de/f8z3) + Deputy Chair Christiane Fath (www.christianefath.de)
January  2022
We are featured in Berengo Studio's latest newsletter!
There is nothing more motivating and empowering than starting a new year by appreciating the beautiful and crucial moments of 2021!
At the invitation of Fondazione Berengo and during the book launch of Women in Architecture, a project by our Chair Ursula Schwitalla, at the St. Regis Venice hotel back in August, we announced the creation of DIVIA. It was an honor to present our objective and goals in front of an inspiring audience.
Thank you to Fondazione Berengo for their support!
To become a member of our association, please fill out the form here: Application Form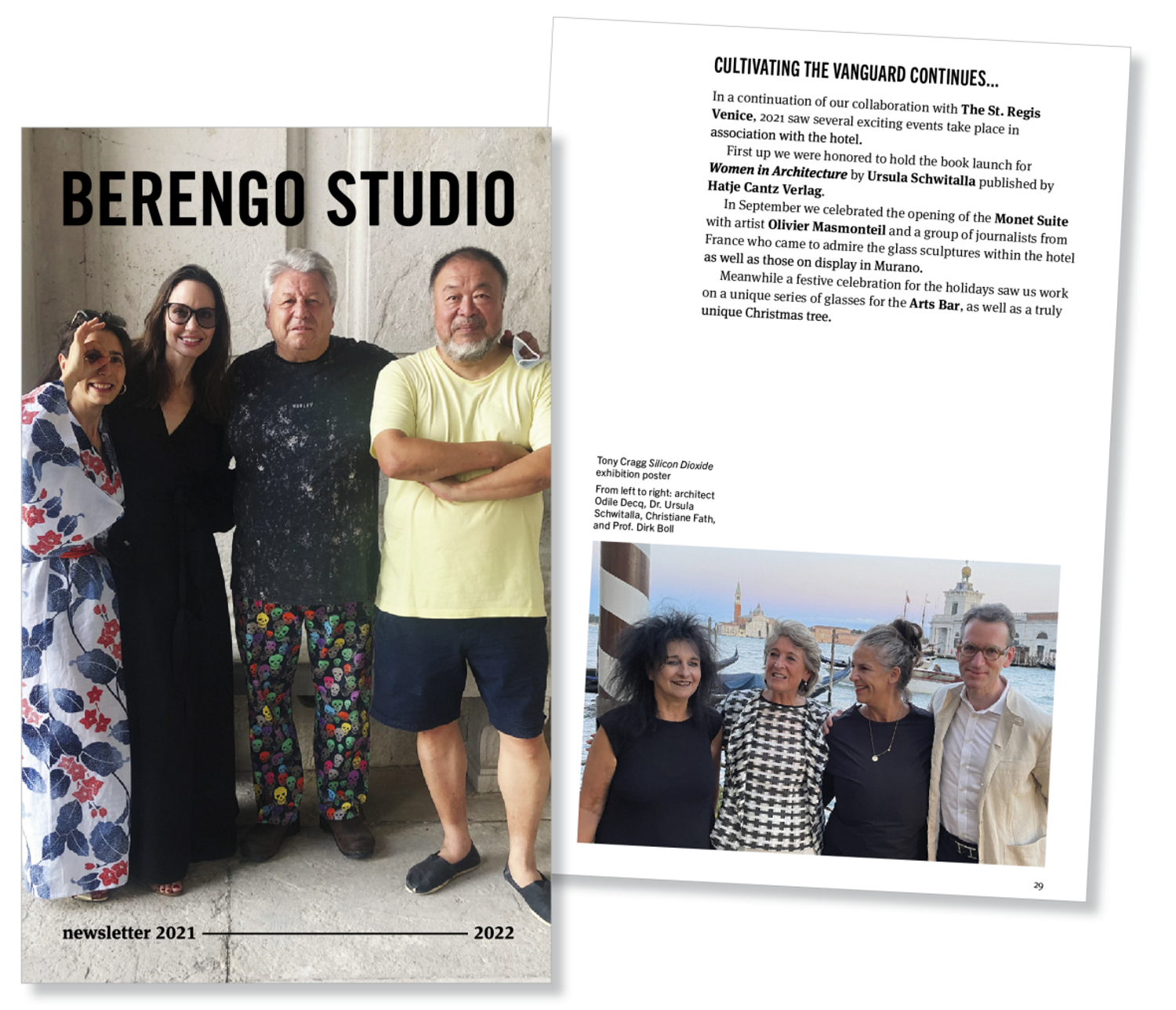 Support us by becoming a member!
An exciting year is coming to an end, and we have taken an important step towards launching a new international prize for women architects.
We want female architects to be properly recognized and rewarded for their contribution to our field. For this reason and along with an exceptional team, we have created Diversity in Architecture, an association that is already being supported by great members.
By becoming a member of our association and/or donating to our cause, you will help us promote respect and equality in architecture. Your membership and donation will play a crucial role in launching the first architecture prize for women in Germany in 2023!
Our warmest regards and best wishes,
Ursula Schwitalla and Christiane Fath
December 2021
We are happy to announce that we are now on Instagram @diversityinarchitecture_ev!
We welcome you to join us on our mission to increase the visibility of women in architecture. By following our account, you will receive a behind the scenes look into our journey, learn more about our members as well as the road towards our first international award ceremony for women architects in 2023.
If you'd like to share a photo with us, make sure to tag us in your post and use the hashtag #diversityinarchitecture_ev.
We hope to see you there
A new NPO has been founded on the 10th of June 2021
The founding members have established the rules of association of Diversity In Architecture. The former registrtion has been made in July and in August the tax authorities have confirmed the tax privilege as a non profit organisation.
"With Diversity In Architecture we have established a platform for an award dedicated to Women In Architecture. Our objective is to enhance visibility, equality and showing role models for Women Architects".

Ursula Schwitalla and Christiane Fath announced the Beginning of this journey at the Festival Women In Architecture in Summer 2021 in Berlin.