January  2022
We are featured in Berengo Studio's latest newsletter!
There is nothing more motivating and empowering than starting a new year by appreciating the beautiful and crucial moments of 2021!
At the invitation of Fondazione Berengo and during the book launch of Women in Architecture, a project by our Chair Ursula Schwitalla, at the St. Regis Venice hotel back in August, we announced the creation of DIVIA. It was an honor to present our objective and goals in front of an inspiring audience.
Thank you to Fondazione Berengo for their support!
To become a member of our association, please fill out the form here: Application Form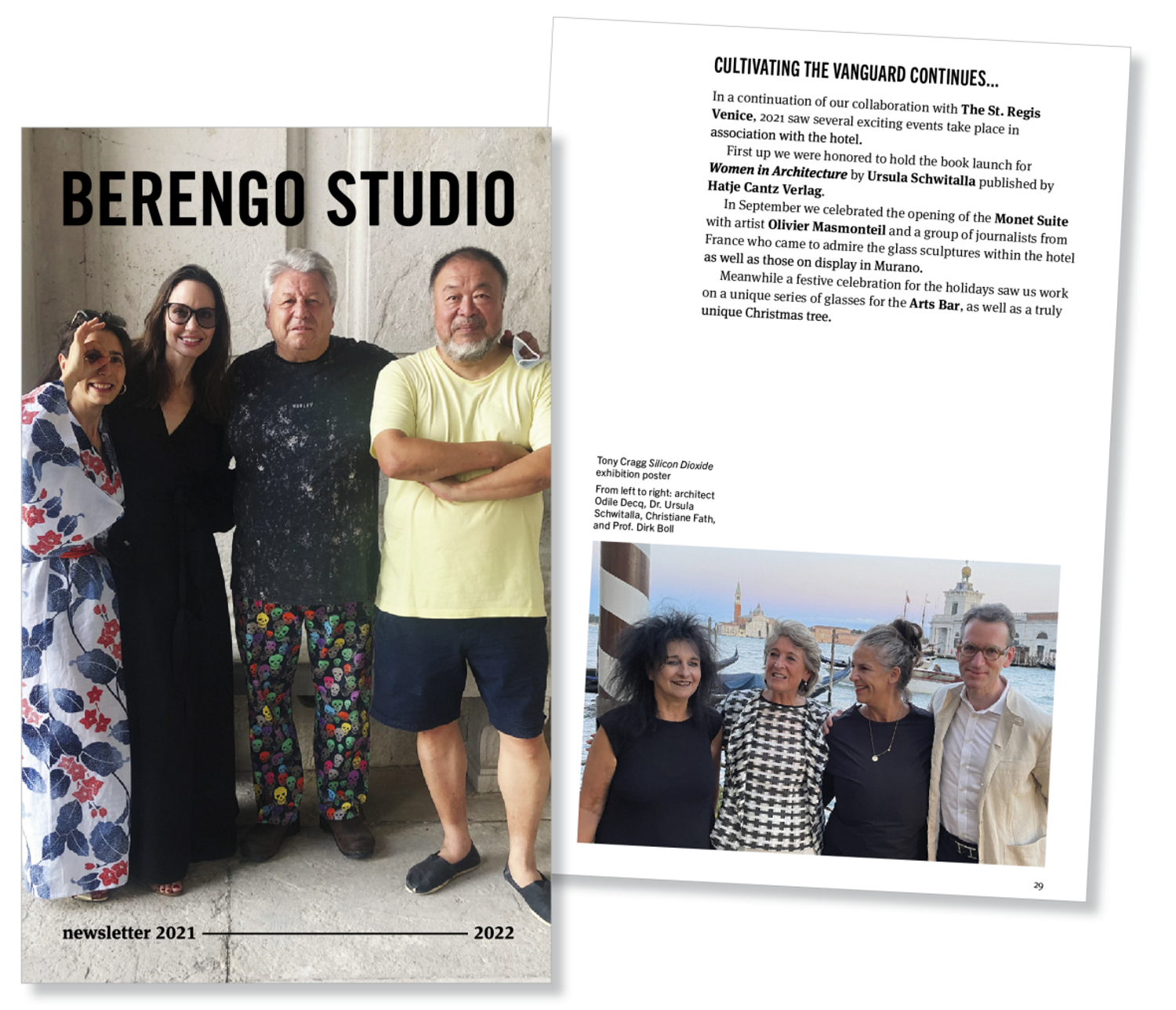 Support us by becoming a member!
An exciting year is coming to an end, and we have taken an important step towards launching a new international prize for women architects.
We want female architects to be properly recognized and rewarded for their contribution to our field. For this reason and along with an exceptional team, we have created Diversity in Architecture, an association that is already being supported by great members.
By becoming a member of our association and/or donating to our cause, you will help us promote respect and equality in architecture. Your membership and donation will play a crucial role in launching the first architecture prize for women in Germany in 2023!
Our warmest regards and best wishes,
Ursula Schwitalla and Christiane Fath
December 2021
We are happy to announce that we are now on Instagram @diversityinarchitecture_ev!
We welcome you to join us on our mission to increase the visibility of women in architecture. By following our account, you will receive a behind the scenes look into our journey, learn more about our members as well as the road towards our first international award ceremony for women architects in 2023.

If you'd like to share a photo with us, make sure to tag us in your post and use the hashtag #diversityinarchitecture_ev.

We hope to see you there
Venice, September 2021
17th Biennale Architettura: Diversity in Architecture e.V. + International Award for Women Architects
"Diversity in Architecture", a non-profit organization founded in June 2021 in Berlin, announces on the occasion of the 17th Biennale Architettura in Venice, the creation of an international award for women architects.
During the book launch of WOMEN IN ARCHITECTURE at the invitation of Fondazione Berengo, Venice, in the presence of the editor Ursula Schwitalla with her co-authors Odile Decq, Sol Camacho and Dirk Boll, the initiators of this new international award for women Dr. Ursula Schwitalla (art historian) and Christiane Fath (architect) explained the objective of this initiative: "The aim is to support actively a greater gender balance between architects and to show and appreciate role models for the younger generation of women architects. The platform Diversity in Architecture will strengthen the visibility of women architects and foster synergies among each other."
Before starting the nomination process by the jury in 2022 Diversity in Architecture is looking for members of the association.
Application forms can be found under (become) Member www.diversityinarchitecture.de
A new NPO has been founded on the 10th of June 2021
The founding members have established the rules of association of Diversity In Architecture. The former registrtion has been made in July and in August the tax authorities have confirmed the tax privilege as a non profit organisation.
"With Diversity In Architecture we have established a platform for an award dedicated to Women In Architecture. Our objective is to enhance visibility, equality and showing role models for Women Architects".

Ursula Schwitalla and Christiane Fath announced the Beginning of this journey at the Festival Women In Architecture in Summer 2021 in Berlin.